Cleaning cloth diapers after each use is a necessary evil. It is simply a question of hygiene and health for your baby, and if you do not prefer disposable diapers, you must make sure that your baby's diapers are absolutely clean before your next use. Washing cloth diapers for the first time can especially be hard as you may feel uncomfortable with the nature of the "dirtiness" you are dealing with.
Cleaning Cloth Diapers with the machine: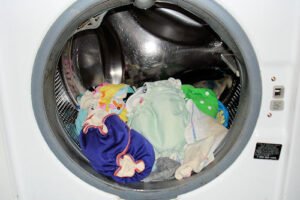 Cloth diapers were used long before disposable diapers became available, and now are regaining their popularity due to a number of factors. They are preferred by many parents because they are soft and are less prone to irritating your baby's bum, are more natural and organic than disposable diapers as they do not contain many chemicals used in the production of the other types of diapers, and are more environmentally friendly as they are not disposed of after a single-use. However, choosing to use cloth diapers also has a side effect; you actually have to wash them after each use, and this is not for everybody. ( Cleaning cloth diapers) If you don't want to deal with this hassle, you can also use biodegradable diapers that are also environmentally friendly and manufactured without those unhealthy chemicals. But if you are willing to take on this extra (and disturbing for some) chore in order to make sure your baby's skin is better protected and the environment is not polluted in the process, you must not worry as there are easy and effective ways to wash and clean cloth diapers.
You can choose to either hand Cleaning Cloth Diapers, or with a washing machine or even laundries with huge front loaders that allow many diapers to be washed at the same time. If you are washing the diapers at home, the first problem can be the foul odor that can disturb you if you are going to store used diapers until there are enough to be washed in your machine. Cleaning cloth diapers)  The solution to this is to simply sprinkle baking soda on used diapers. This way you can prevent the odor until washing day. Of course, if you're going to hand wash the diapers you can always wash them one by one.
Things you should watch out for when Cleaning Cloth Diapers: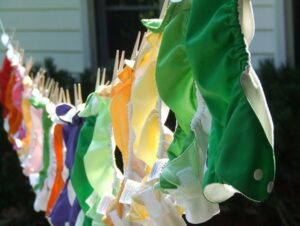 Washing too many diapers at once is not always a good idea; even if it saves you from another round of work, too many diapers in the washing machine can cause friction and pilling. Another important thing is to avoid using too much detergent as it can build up in time and cannot be rinsed thoroughly. This would have an unwanted effect as you would be introducing harmful chemicals to your baby's skin through the diapers. Try to use a smaller amount of detergent than you normally would. As you would normally be washing the diapers in two cycles, using less detergent would not have an effect on cleaning. You can also use some odor eliminators if you are having odor problems.  Using cloth diapers is a good and sensible idea. You are undertaking the extra chore of washing cloth diapers to provide your baby with better protection and to prevent pollution in the meantime. Apply these small tips and reap the rewards of a healthier baby and cleaner environment.
For Cleaning Cloth Diapers – 7 Must-Know Tips For Spending Less:
The cost of diapers is one of the largest costs associated with raising young children. Considering the fact that most children wear them for upwards of two years, the weekly purchase of diapers can really add up. Here are seven must-know tips for saving money on diapers cleaning cloth diapers.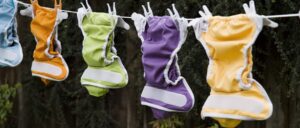 Use cloth:
Although the initial cost of cloth can be prohibitive, they may actually save you money in the long run. Today's cloth diapers are well made and aren't as leaky and messy as those of yesteryear. They can cost anywhere from $15 to $50 each, but you'll only have to buy them once.  A good stash of about $250 should last you at least a year with your child. Once they grow out of the diapers, you can resell them to other parents who choose to cloth diapers. To wash the diapers, all you'll need is baking soda and regular washing detergent.  There are many cloth diaper-related forums and guides available online to help you find out more about this inexpensive, and eco-friendly, way to diaper your baby.  Another option: the hybrid diapers on the market today, which feature flushable liners inside a reusable diaper pants. This can be more convenient than cloth without the environmental impact of disposables.
Keep your eye out for sales:
Whether you buy disposable diapers, cloth diapers, or some combination of the two, make a habit of never buying diapers at full price. When you find a diaper sale, be sure to stock up so you can save money. This way you won't have to pay full price when you run out of diapers. Watch your local newspapers for sale advertisements.
Clip coupons:
You can also watch the newspapers for coupons for your diaper needs. Manufacturers and stores both issue coupons for a dollar off or more. You can really put this method to good use if you have a store nearby that offers double coupons on specific days.
Comparison shop
If there are no coupons or discounts to be found, at least make sure you are purchasing diapers from the least expensive place in town. Start keeping a price book of different locations around your area that carry diapers.
Buy in bulk
This is the best way to save money on diapers if you don't want to go the cloth diaper route. With bulk diapers, you can save a few cents per diaper (which can really add up.) Warehouse shopping stores have bulk diapers for sale as well as many other baby-related items..( Cleaning cloth diapers)
Buy generic
Generic diaper brands are consistently less expensive than name brands, though they don't always work as well as name brands. You may find that you have fewer messes if you use name-brand diapers at night and then generic brands during the day. Alternately, you may find that generics work just as well as regular brand diapers for your baby. It all depends on their body shape. Try what works best for you and you'll always be able to save money.
Look online
The web is full of baby superstores, discount stores, and even websites that specialize in providing diapers at the best prices. Comparison shop online before you buy your next pack of diapers and look for diaper coupons (including printable diaper coupons.) You might be surprised at the amount of money you can save.
Tips for Traveling With Baby and Cloth Diapers: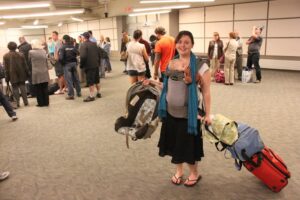 Many parents love using their cloth diapers at home, but the second they think about traveling with them they panic. The truth is traveling with cloth diapers is as easy as using them at home. With a little preparation, a level head, and the proper tools, parents will never break a sweat over traveling with cloth again.
How Many Diapers Should I Bring?
This is a common question and depends on how long you will be away. If it's only for a few days, pack a couple more than you think you'll need in order to have extras as you wash soiled diapers. Note that these types of diapers do take up more room than disposables so plan for that. Cleaning cloth diapers.
The Wet Bag:
If you are planning to travel, invest in a wet bag or pail liner to place soiled diapers. Flushable disposable liners are a great way to maintain cloth diaper usage, while also quickly discarding your baby's waste. Flushable disposables are just one of the many advantages of cloth diapering in general. This gives parents an eco-friendly alternative to disposable diapers which take years to biodegrade.
Cleaning Your Cloth Diapers:
Hopefully wherever you are going has a washing machine available. If you're worried that the washing machine is unsanitary, you could always run it through a washing cycle with detergent before use. If your destination does not have a washing machine, then you might want to take a few traditional disposables along or use flushable disposables.
Bring the Detergent:
Good luck finding the exact type of detergent you need to properly wash your diapers. Be sure to pack whatever detergent you use at home. Some parents travel with soap nuts to avoid the possibility of spillage or leaking.
More Helpful Cloth on the Go Accessories:
A lot of parents who use this type of diaper also choose to use cloth wipes. However, this can be troublesome when you are traveling. Many parents use disposable wipes because they are easily accessible, per-wet, and tossable. To use cloth wipes, pre-wet the wipes before leaving home, or bring a small water bottle to spray each one before use. These can also go into your wet bag or pail liner once they have been used. Please note that new federal regulations prohibit passengers from bringing liquid aboard the plane. If you are flying you can put your pre-wet cloth wipes in a wet bag already wet in hot water and a touch of baby shampoo for scent.
Hybrid Diapers are Lifesavers:
Pocket diapers take up a tremendous amount of space in your luggage. Most people find traveling with a few hybrid diapers is the easiest solution to this problem. Hybrids consist of a cover and insert that is most often snapped into place. Once the baby has used the diaper, the insert is simply lifted from the cover, and the cover can be reused.
Learn to Change Diapers in the Vertical Position:
You may have to change diapers at a moment's notice, especially if you're traveling on a plane or train. Often those seats are not conducive to the horizontal diaper change, or what we are sitting on seems so dirty that we don't want to lay our child down. In that case, practice how to change your baby while holding them straight up. This method minimizes the space you take up when changing your child, and gives you an alternative to seeking out sanitary surfaces to change your baby on. .( Cleaning cloth diapers)  Many diaper bags come with covers designed to protect your baby's bottom from unclean surfaces. However, towels will do the trick too.
Stay Positive:
Even though traveling with cloth diapers requires a little more planning and maintenance than traditional disposables, they are still worth the trouble. They are better for the environment than traditional diapers and will save you hundreds or thousands of dollars a year. Plus your baby is less likely to develop skin irritations. Remember the reasons why you made the decision to use this type of diaper in the first place and know that you've made the best decision for your baby, wallet, and the environment.
Conclusion
We hope you found this article useful. It's so important to be knowledgeable about how best to clean cloth diapers, and we want you to have the information that will empower you in your decision-making process. If there is anything else we can help with or if any of these methods has been helpful for you please let us know! Leave a comment below telling us what method worked best for you, or tell us which one was most surprising!
Related Article