Discover the 5 most common mistakes we can make when changing a baby's diaper, especially when they are newborns.
When it comes to changing the baby's diaper, the time is that it ends up giving the parents experience, but the first days and more when it comes to new parents, it is possible that certain mistakes are made that are also common. We are now talking about changing the baby's diaper and five common mistakes that we usually make.
Diaper change: 5 common mistakes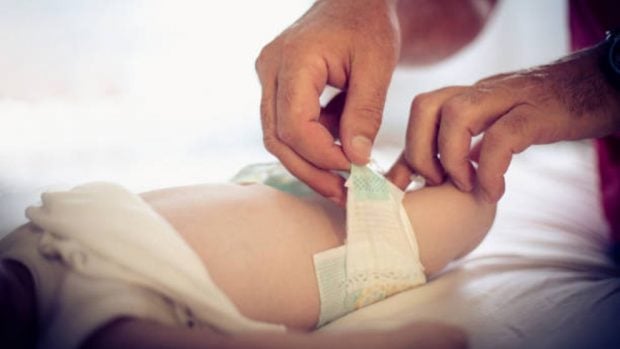 When it comes to caring for a newborn baby it is evident that the first times we have to proceed with changing the diaper we will have doubts or we will not know, for example, how to position the baby or how to close the diaper properly. In the hospital they will explain to us how it is done correctly, but it is only through practice that we will be able to do it well and also avoid mistakes like these, which are in fact common in all parents.
You change the baby's diaper too often. Many parents, first-time parents especially, are overwhelmed with the idea that perhaps the diaper must be changed constantly but the truth is that it is not like that. When the baby is newborn, you can change the diaper after feeding or immediately before (therefore, consider every 2/3 hours), when he is older, if you do not notice that he weighs more and the diaper he is wearing is not warm, you can also change it every 4 hours.
Avoid doing a diaper change in the middle of the night (unless it's essential: changing it in the middle of the night means waking him up and it honestly also means no more sleep. Unless the baby has woken up crying and then you can check if the diaper is dirty, it is better that you do nothing. If he sleeps calmly, better not wake him up.
You use too many products when changing the diaper: To change your baby's diaper, you just need some wipes (or a wet sponge) to clean the baby well, a little moisturizer so that the skin is not irritated, a clean diaper and nothing more.
You wash the baby with very hot or cold water: If you use a wet sponge to clean the baby with each diaper change, you must make sure that the temperature is warm. If it is very cold or very hot, the baby will be left with that feeling when you put on the clean diaper and will feel uncomfortable.
Avoid touching or wetting the umbilical cord: The umbilical cord is best left in the air to dry and fall off on its own. Therefore, when you change the diaper, you should not cover it with the edge of it, much less wet it in case you have to clean the baby. In fact, until it has fallen naturally, the child should not bathe. How do you clean it? With a gauze pad and a little alcohol-free disinfectant.
By avoiding making these mistakes and practicing with each change, you will see how in a short time, changing the diaper will become so routine that you can clean your baby in a few minutes without even making a mistake.