When to change a baby's diapers is a question that many parents ask, especially if they are new. The answer depends on many factors that are mentioned and explained below.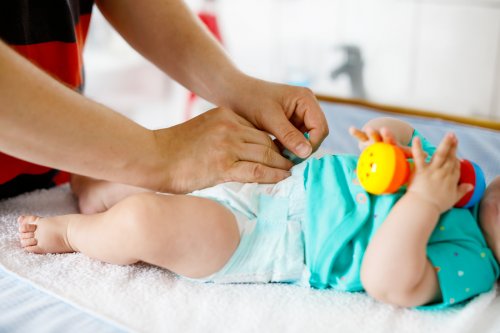 Ideally, your baby should be comfortable and dry at all times. Therefore, you must know when to change the baby's diaper. It is an interesting topic since newborns urinate about twenty times a day, so the change must be done in a balanced way so that you do not spend so much time with a wet diaper and that you do not change it too quickly.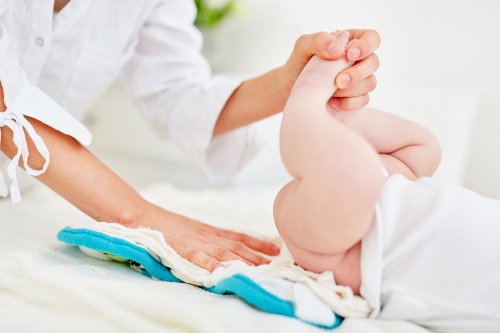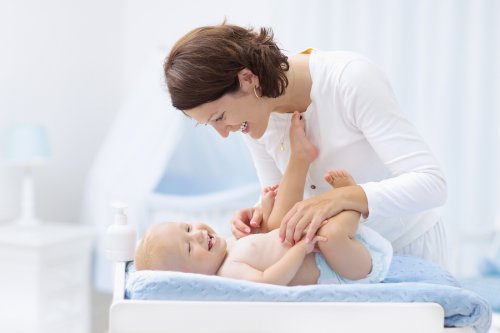 When Should Baby's Diaper be Changed?
Something that everyone is clear about is that the child's diaper must be changed immediately after he has a bowel movement.  Sometimes, when they finish changing it, they even defecate again. This usually happens after breastfeeding.
On the other hand, knowing when to change the baby's diaper after urinating is difficult to calculate, since each child has its own rhythm. They usually urinate a lot, especially during feeding. It is best to set a fixed time to change it, which can be before or after you feed it.
On the other hand, it is necessary to put on a clean diaper before going to bed, in order to avoid excessive accumulation of fluid while sleeping. If you are going to leave the house, try to bring a clean diaper; This way you will avoid having to change it on the street.
In case your baby suffers from reflux or regurgitates after feedings, it is advisable to change it before. In this way, you can prevent him from expelling the food he has just eaten by lying down after taking it.
Changing the Diaper According to The Baby's Age
If your child is a newborn, you should change the diaper often. This is because neonates eat every two to three hours and evacuate quickly.
Also, they urinate very frequently, due to the consumption of breast milk and its liquid state. In addition, they feel very cold from the change in temperature, which makes them constantly urinate.
As they grow older, although they increase in volume when urinating, they do so in longer periods of time. This can cause discomfort to the baby, which will manifest with crying. Therefore, you must be careful to change the diaper.
If your baby stays in a dry diaper for a long time, you should consult your pediatrician. This symptom may indicate that you suffer from some abnormality or dehydration.
Why Change The Diaper on Time?
Babies are vulnerable to irritants in the diaper area. Consequently, urine and feces that are left accumulated for a long time cause changes in the child's skin.
You should know when to change the baby's diaper, since feces and urine, along with the rubbing of the diaper in the area, are a culture of fungi and bacteria. These cause irritation, rashes, and infections if not treated in time. It should be noted that some infants are more prone to these conditions than others.
Also, keep in mind that diapers have a liquid absorption limit. So, when they exceed them, they spill and moisten other parts of the child's body and, of course, also the place where he sleeps.
"It is necessary to put on a clean diaper before going to bed, in order to avoid excessive accumulation of fluid while sleeping. If you are going to leave the house, try to bring a clean diaper "
Should You Change Your Diaper While You Sleep?
If the baby is asleep,  it is not advisable to change the diaper so as not to interrupt his sleep cycle. However, during the night you can take the opportunity to change it before or after feeding. However, if you need a clean diaper during the day, you can wake him up. By doing it with music or talking to him, he will adapt to the daytime schedule and the light of day.
What Should You Do During The Diaper Change?
You can make diaper change an opportunity to stimulate her senses. For this, the occasion must be fun, sing to him, talk to him, put music on him; all this achieves a process of adaptation.
Always keep everything ready and close to the changing table for the diaper change:  soap, towels, clean diapers, and wipes. This way, you won't be overwhelmed by having to search for them every time you have to change it. Likewise, to leave the house, take everything you need.
On the other hand, use the right diaper size for your baby's months; It should not be too small or too large. This gives you comfort and prevents chafing and irritation if you are too tight. On the contrary, if it is too large, it causes the waste to spill and various inconveniences to occur.
Conclusion
In conclusion, it is not always easy to determine when to change the baby's diaper. However, with this simple guide, you can learn to groom your child at the right time.
We hope you've found this blog post helpful! If so, please take a moment to share it with your friends and family. What are some other questions about parenting that you wish someone could answer for you? Leave us a comment below or send an email to [email protected]